My work in investigative journalism & documentary production
.
The first part of my career was primarily devoted to applying my visual thinking and design abilities to designing key graphics, animations, video and visualizations, for organizations throughout the US & Southeast Asia.
The second part of my career was devoted largely to investigative research, and producing reports and documentary videos.  Some highlights of this work are below.
---
Exposing the NY Times's latest blood libel against the IDF & its research unit (2020).
In this expose, I documented a NY Times Tweet that opened with a factual assertion that could well have been by Hamas, or ISIS:
"The Israeli Defense Ministry's research-and-development arm is best known for pioneering cutting-edge ways to kill people and blow things up."
At the time this incident occurred, I was deep into developing this resource page for my ILoveIsrael.me website: Israel's humanitarian benevolence – even for enemies.
Section 3 documents some of the super-human, little-known lengths to which the IDF goes to figure out how to protect innocent civilians, even when terrorists are using them as human shields (or they are acting in that capacity voluntarily). One of the key items on this page is this interview that I conducted with a former IDF special forces soldier, Doron Keidar, focusing particularly on this aspect of IDF ethics:
"[W]e have what are called "purity of arms" (טוהר הנשק) instructions, which we receive when we are first issued our weapons. They are basic principles about when and how we can use our weapons. It is the ethical code that clarifies that our weapon is the last option and mainly for defense."
This is the title graphic I produced for this report: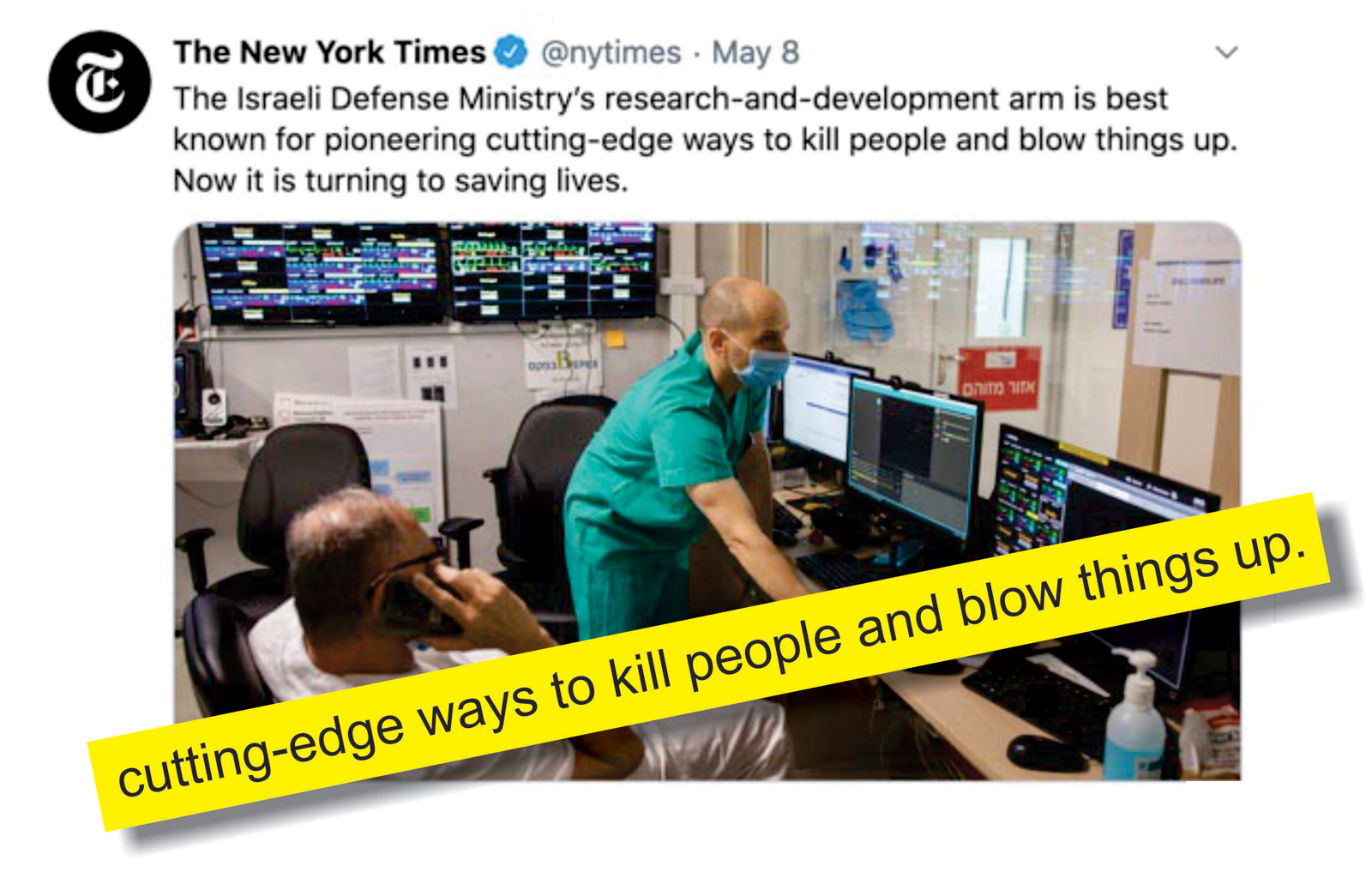 ---
"The Huffington Post's Anti-Semitic Bias and Incitement During the Third Intifada" (2016). This 44-minute documentary, which I wrote, designed, produced and narrated, was hailed by the watchdog group CAMERA, author Melanie Phillips, terrorism analyst & professor Ryan Mauro, and other notable figures. The trailer is here. Released March 1, 2016.
---
The LGBT filmmaker boycott of Israel is anti-Semitic and hypocritical" (2020).
My purpose in creating this report was to expose the world an example of the insidious, anti-Semitic acts engaged in by prominent figures in the movie industry, which are typically ignored by America's "news media."  In this case, the unique factor was that this was an anti-Semitic campaign mounted by LGBT actors, directors, producers & artisans that claimed Israel oppresses Palestinians, and thus does not deserve to have an LGBT film festival.
This report exposes:
The Palestinian LGBTQIA+ community is being oppressed — but not by Israel. To the contrary, Israel is the lone refuge in the entire Middle East for those in the Palestinian LGBTQIA+ community, to escape the systematic governmental and cultural terror inflicted on them in Muslim-majority environments.
The anti-Semitic nature of this myopic boycott is revealed by the fact that these film professionals have said nothing about, let alone organized a boycott against China, which holds more than 1 million Uighur Muslims in bondage, and is both using them as slave labor, and forcibly "re-educating" them.
This insidious, anti-Semitic, Islamist-protecting boycott can survive and gain support only so long as the general public remains unaware of these realities — especially who and what are actually the Palestinian peoples' primary oppressors — and it is not Israelis.
Note: At the time news of this LGBT boycott emerged, I was nearing completion of this page for my ILoveIsrael.me website: Israel's LGBT inclusion & protection. This page's resources reduced the time necessary to create my report by 70-90%.
---
"HuffPost's Dehumanization of Capt. Taylor Force"(2016).
I wrote, designed and directed this 17-minute documentary, that
Exposes how HuffPost dehumanized a beloved U.S. combat veteran who was murdered by a Palestinian terrorist — while at the same time, super-humanizing ISIS terrorists, sad celebrities, and animals
Shows how HuffPost ignored the broader wave of Palestinian terrorism against Jews occurring at the time, while whitewashing and championing the Palestinian terror narrative
---
"Hate Crimes In America" (2015)
My purpose in creating this report was to expose a lie that had become popularized in preceding years: that America is an "Islamophobic" nation, in which Muslims face uniquely high risk of being victims of hate crimes.
In reality, then as now, Muslims are among the least-likely victims of hate crimes, while Jews are not only the #1 target of hate crimes in America, in New York they are targeted more than all minority groups combined. Here is the summary slide show that I produced:
---
Ten vital facts about the refugee crisis that every American should know (2015)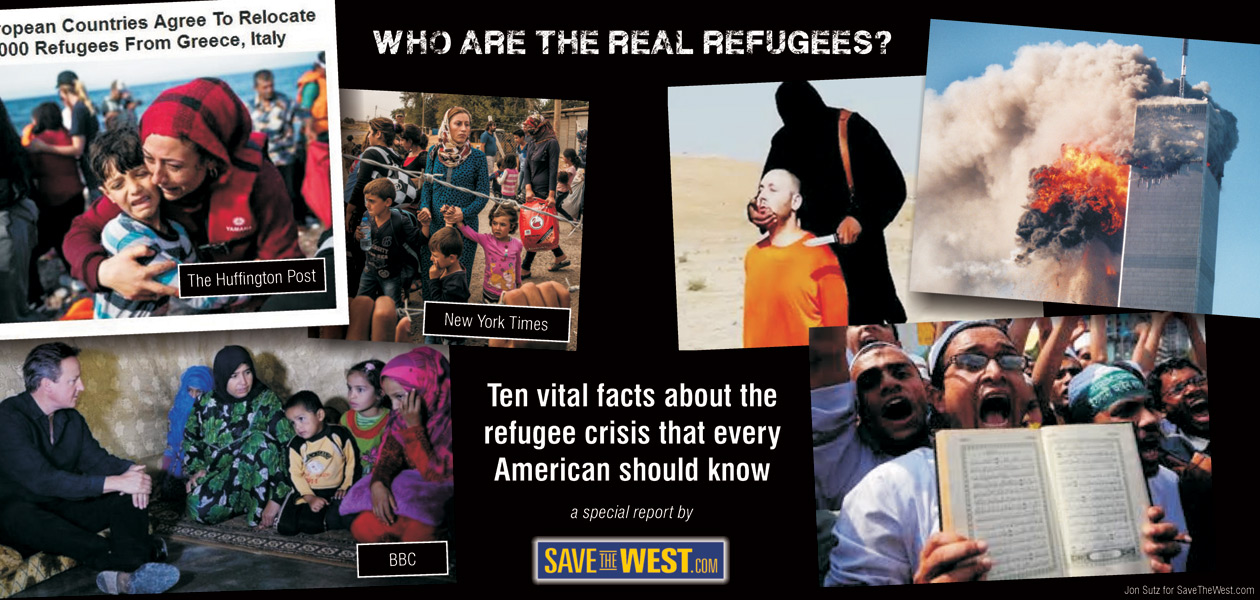 The purpose of this special report is to present (and validate) ten of the vital facts that all Americans must know, so that we can intelligently assess the policies that are being formulated in our names, and being implemented with money taken out of our wallets:
Here are the first five:
(1) The vast majority of refugees are neither women nor children; rather, they are lone adult males.
(2) Only 26% of these "refugees" are from Syria or Iraq; 74% are from other Muslim countries, some of which are notorious for Islamist terrorism.
(3) ISIS has openly boasted that it has been smuggling thousands of jihadists into North America and Western Europe.
(4) An estimated 40 million+ Muslims in "refugee" countries support ISIS.
(5) A British journalist recently demonstrated how easy it is for a non-Syrian to buy a Syrian passport, so one can falsely pass oneself off as a "refugee."
---